Dabbsson DBS2300 Plus Portable Power Station - 2330Wh | 2200W
45 Days Price Match Guarantee
Refund 100% of price difference within 45 days
3-year Warranty + 2-year Extended Warranty
Buy direct from us to enjoy automatic extended warranty
---
Buy DBS2300 Plus series more than $1599 and get a free trolley (valued at $229)
The free trolley will be shipped out with your order together.
---
Plug & play home backup & outdoors.

2200W-4000W AC output, 3000W in P-boost mode.
Up to 16.66kWh expandable capacity.
4200W AC+solar charging to 100% in 1 hr.
EV Semi-solid state LiFePO4 battery, 4500 circles, 15-year lifespan.
Smart energy management via Dabbsson App.
Powers 99% of home appliances.
Buy 2 DBS2300Plus get a free parallel

connector.
---
Worry-Free Shopping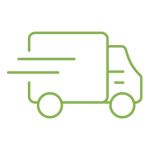 Free Delivery
3+2 Years Warranty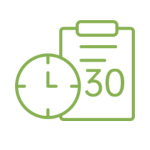 30-Day Money Back
The biggest expandable battery packs in the market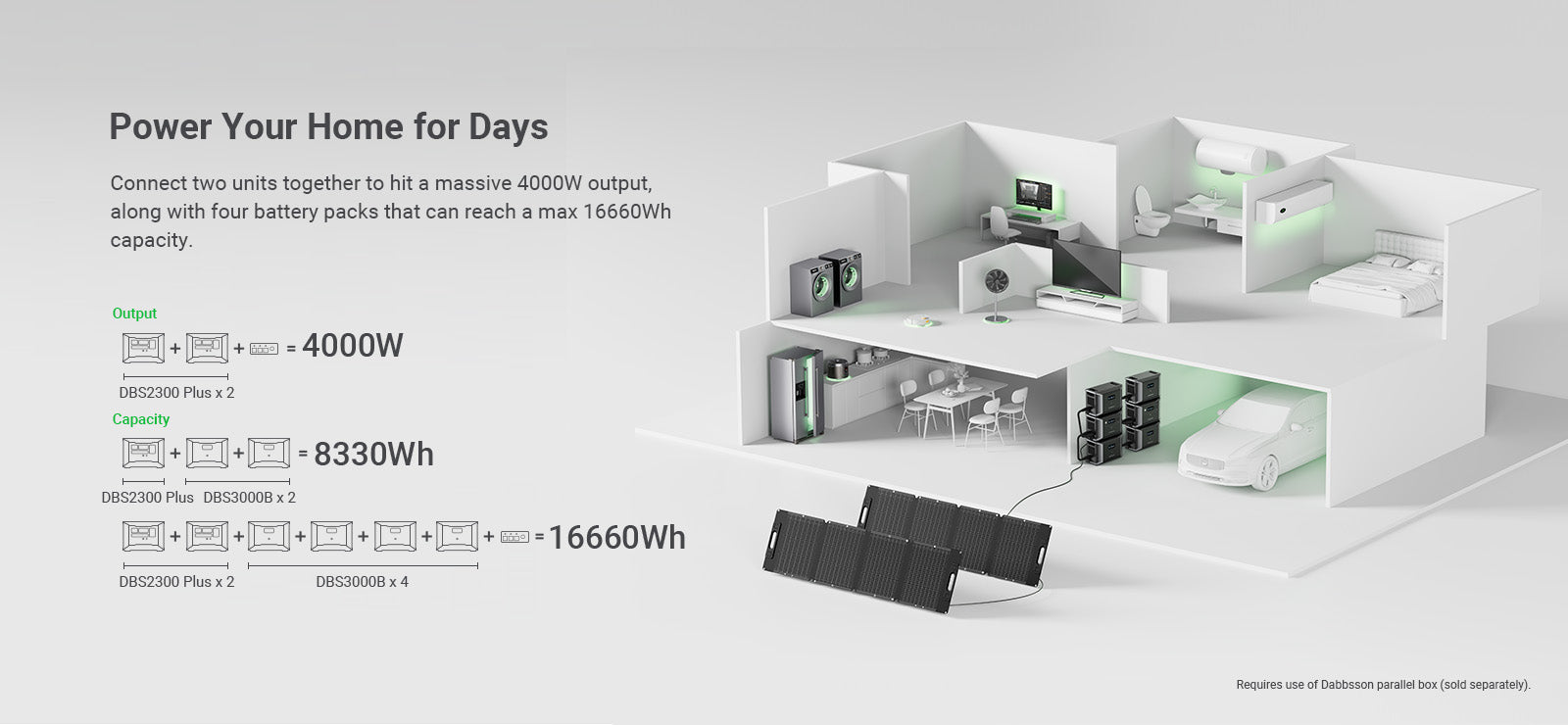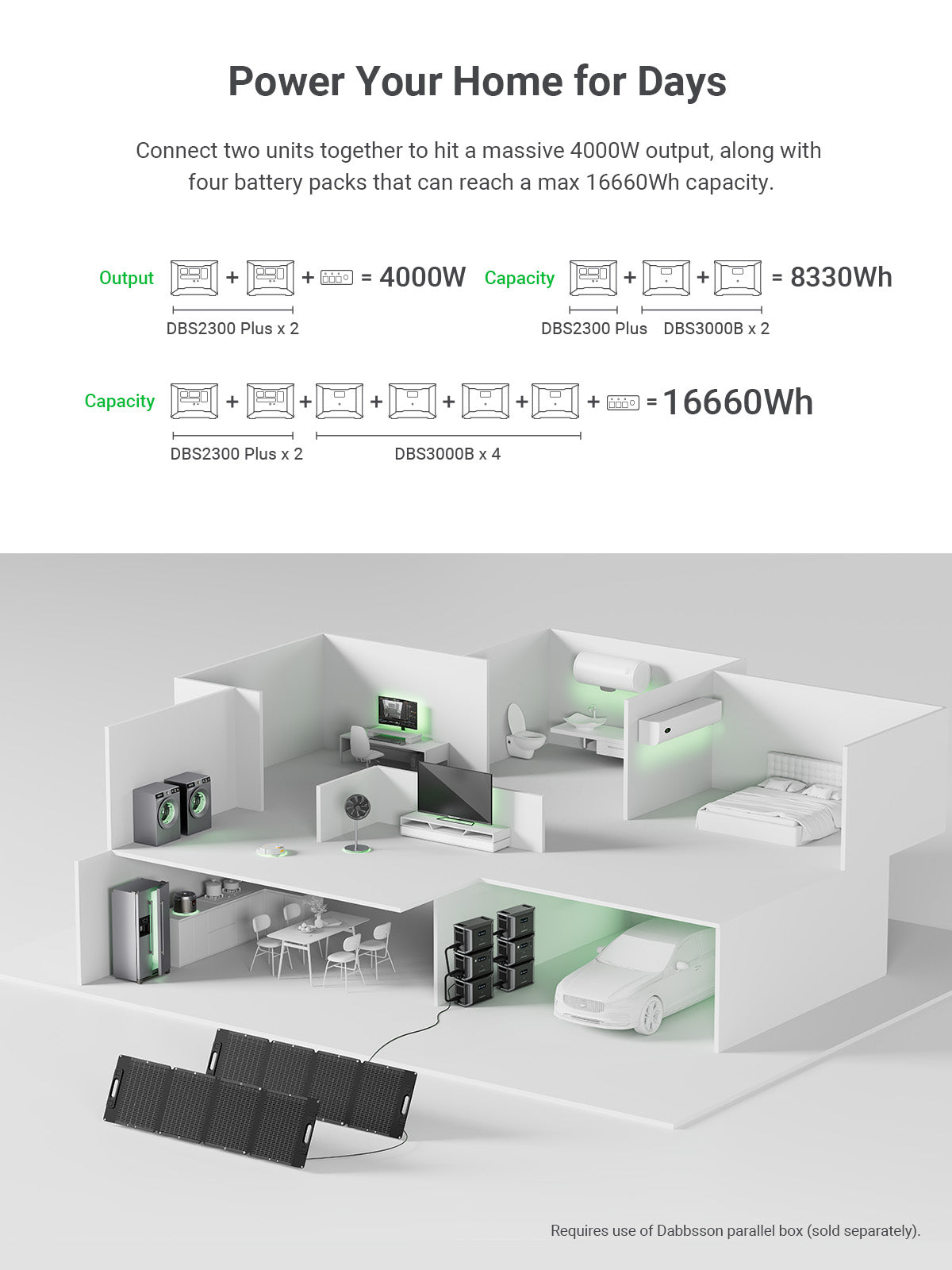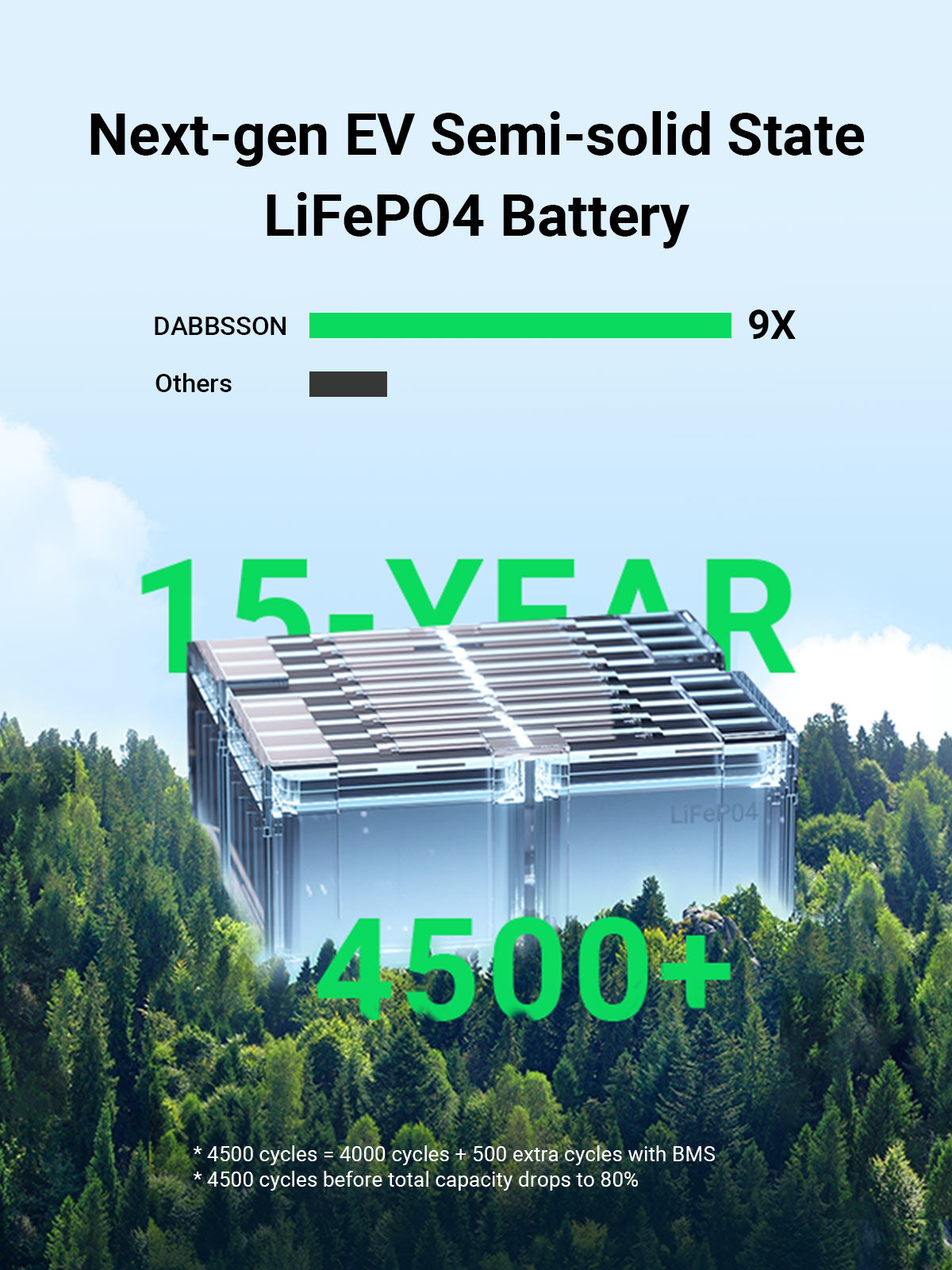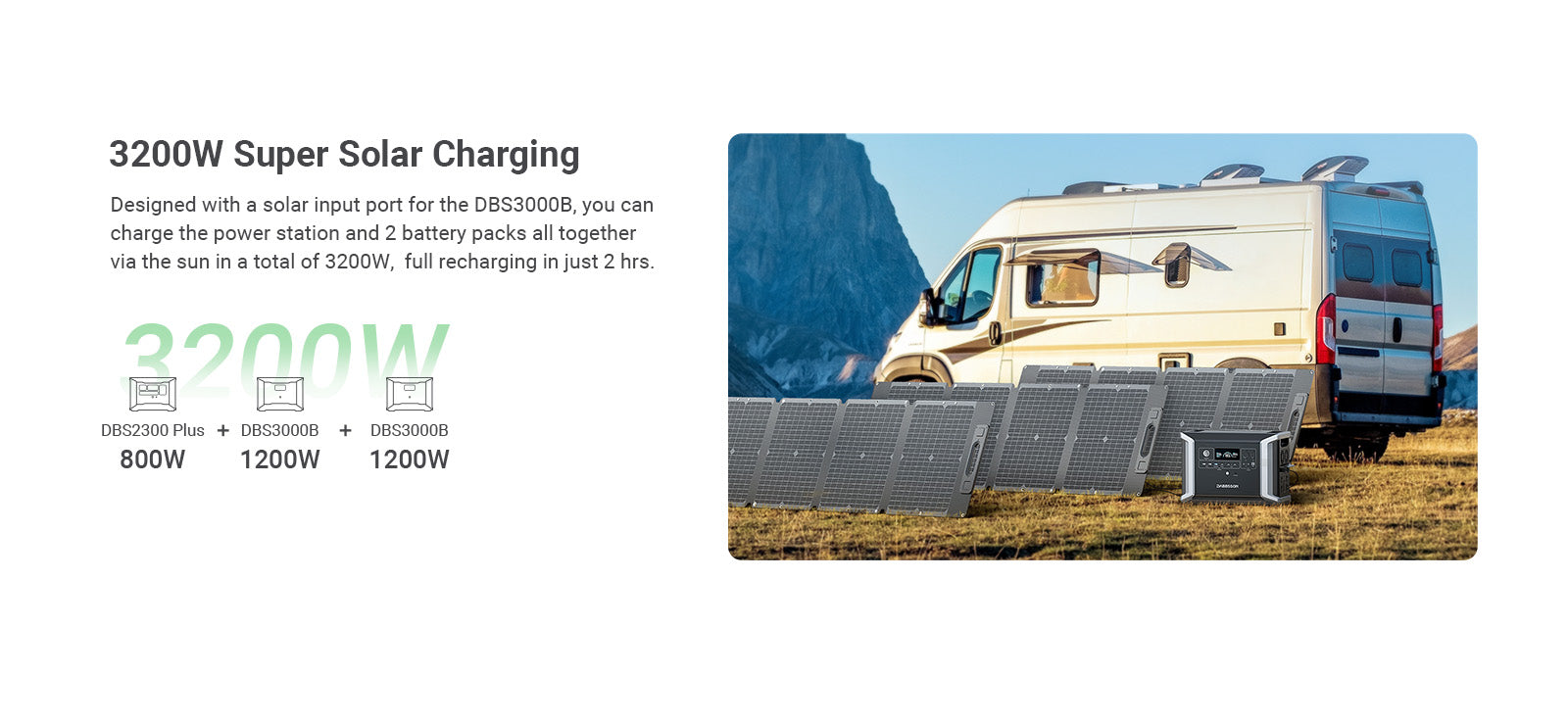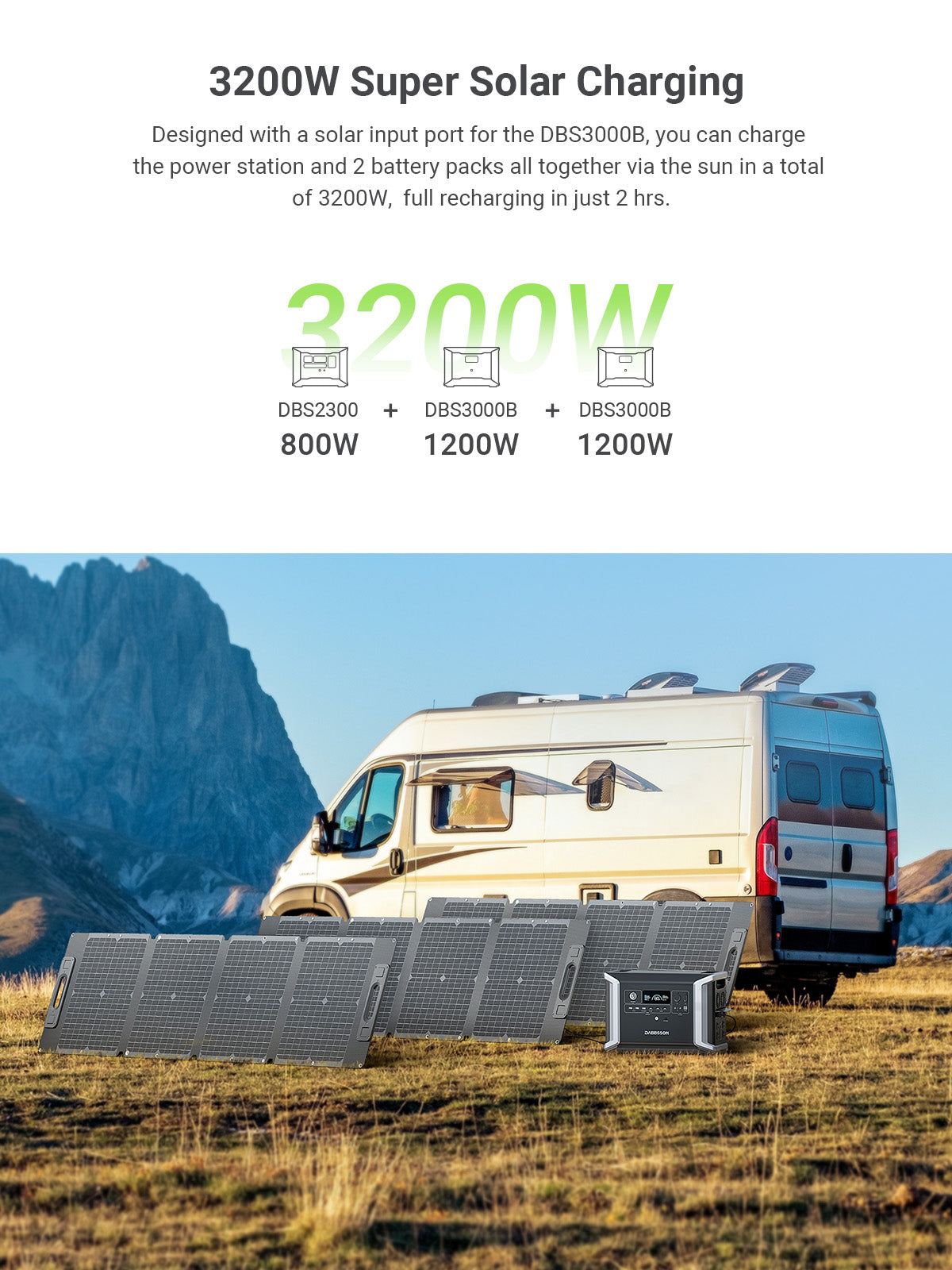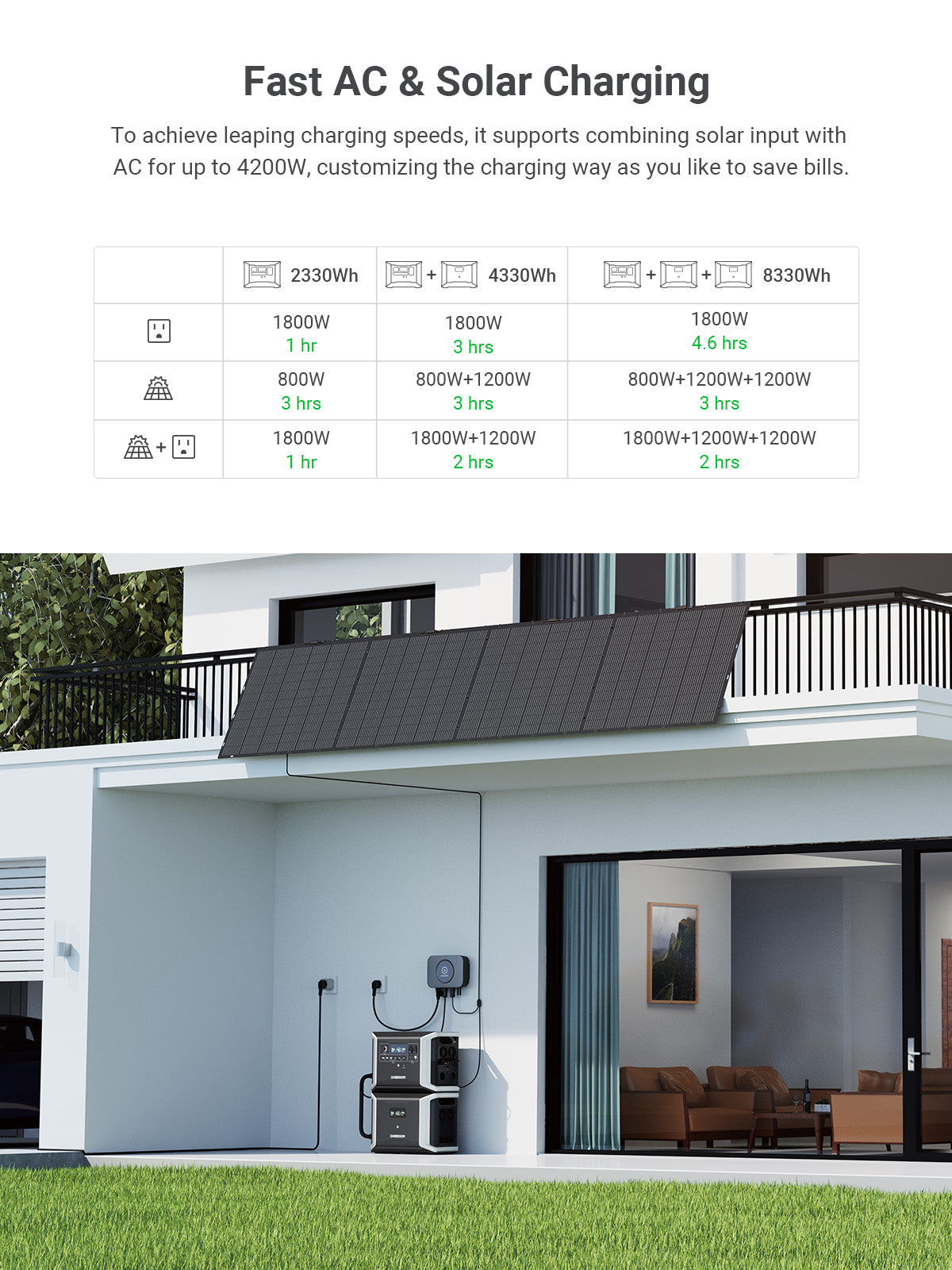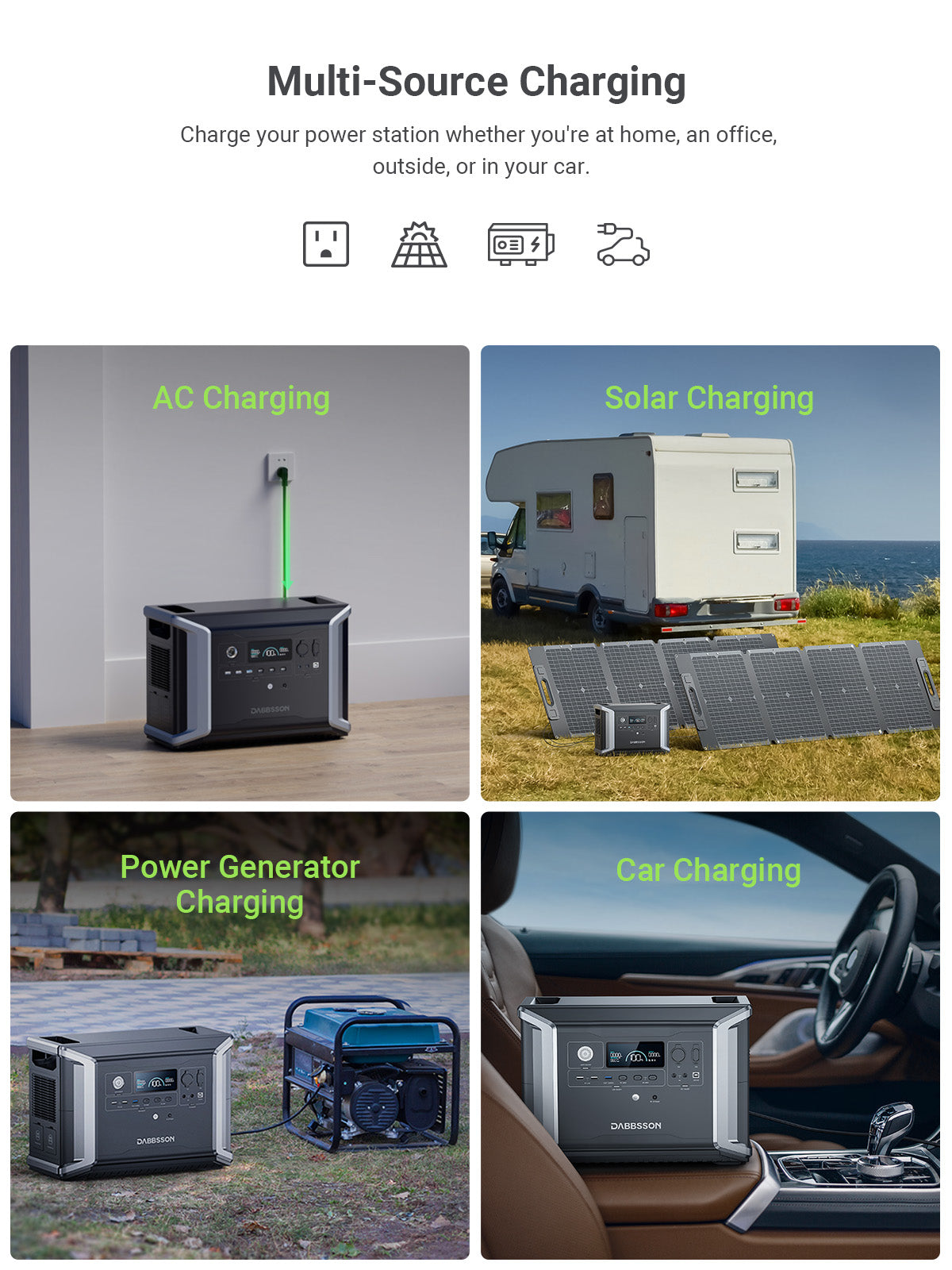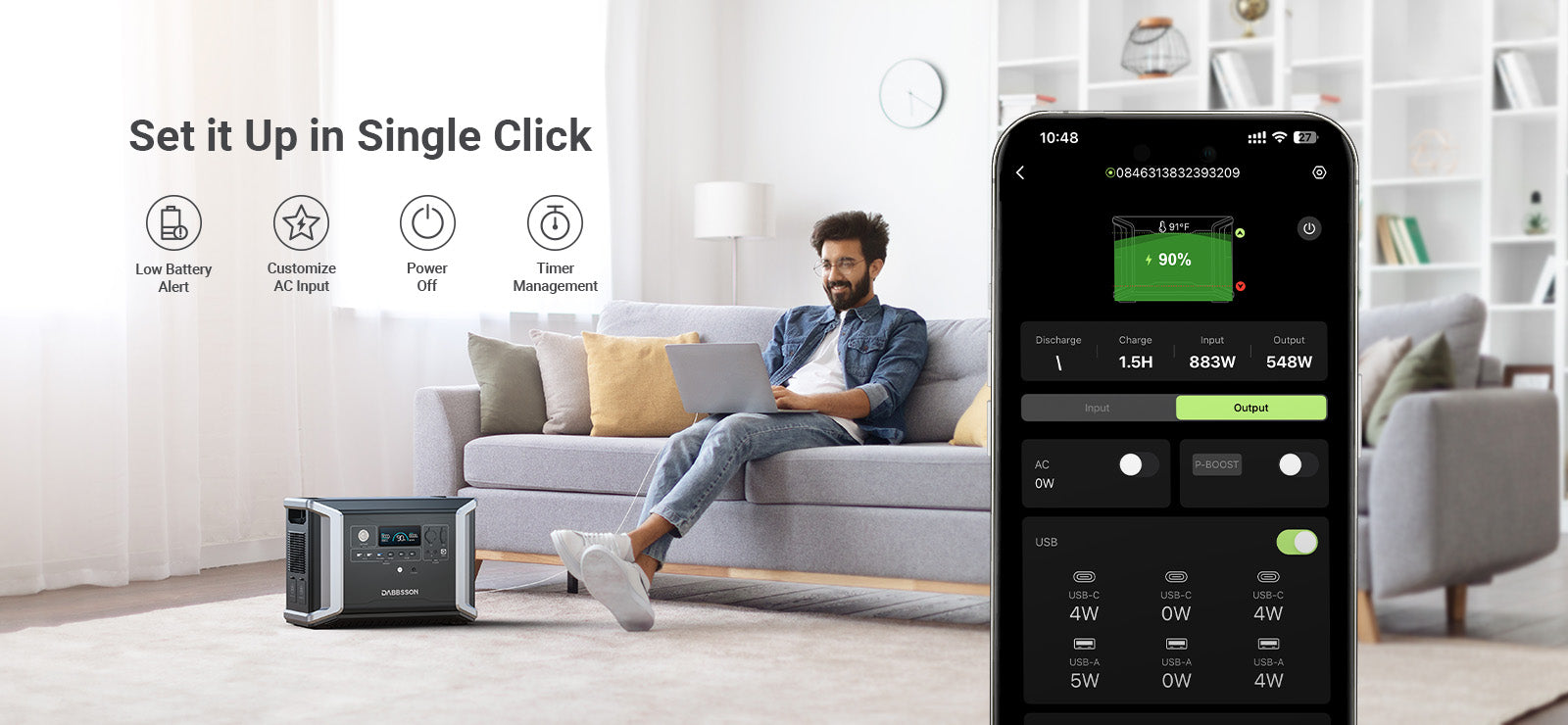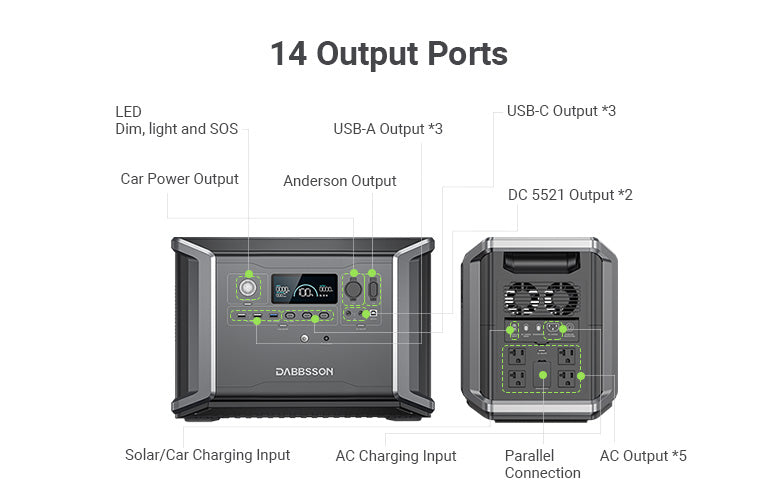 1
Product
Product Name
Portable Home Backup
Power Station
Model
DBS2300 Plus
App Control
Yes, Wifi&Bluetooth
Dimensions (LxWxD)
17*10*12(in)/432*254.5*303.5(mm)
Operating Temperature Range
0℃~40℃/32℉-104℉
Storage temperature
-10℃~45℃/14℉-113℉
Differences:
Dabbsson 2300:
Net Weight
25.8kg/56.88lb
Gross Weight
28.90kg/63.71lb
Dabbsson 2300 Plus:
Net Weight
26.38kg/58.15lb
Gross Weight
29.55kg/65.14lb
2
Input Ports
AC Charging Input
1800W, Full charge in 2 Hours
AC Input Voltage
120V~ 15A, 50Hz/60Hz
Car Charging Input
Supports 12V/24V Battery, Default 8A
Differences:
DBS2300 Solar Charging Input
12-60V(Max 75V ), 600W Max
DBS2300 Plus Solar Charging Input
12-60V (Max 75V ), 800W Max
3
Output Ports

Pure Sine Wave, 2200W total (surge 4400W), 120V~ (60Hz)
USB-A (x2)
5V 2.4A, 12W Max Per Port, Total 12W
USB-A Fast Charge (x1)
5V 3.0A 9V 2A 12V 1.5A, 18W Max
USB-C(x1)
5/9/12/15V 3A, 20V 5A 100W Max
USB-C(x2)
5/9/12/15/20V 1.5A, 30W Max Per Port, Total 60W

Car Charger
12.6V 10A, 126W Max

DC5521 Output (x2)
12.6V 4A, 50.4W Max Per Port
Anderson Output
12.6V 30A, 378W Max
EPS
15ms
Differences:
Dabbsson 2300:
AC Output (x5)
Add-on power: No
Dabbsson 2300 Plus:
4XAC Port+1 Parallel Port
Add-on power: 4000W(2*DBS2300 with Parallel Power Connection Junction Box)
4
Battery
Capacity
2330Wh
Battery Type
Automotive-grade
Semi-solid LiFePO4 Battery
Lifecycle
4500 cyles to 80% capacity
Fast Charge
0%-80% in 44mins
Differences:
Dabbsson 2300 Add-on
Extra Battery DBS3000B*2, Total 8330Wh
Dabbsson 2300 Plus Add-on
2*DBS2300plus+Extra Battery DBS3000B*4, Total 16660Wh
Voice From YouTubers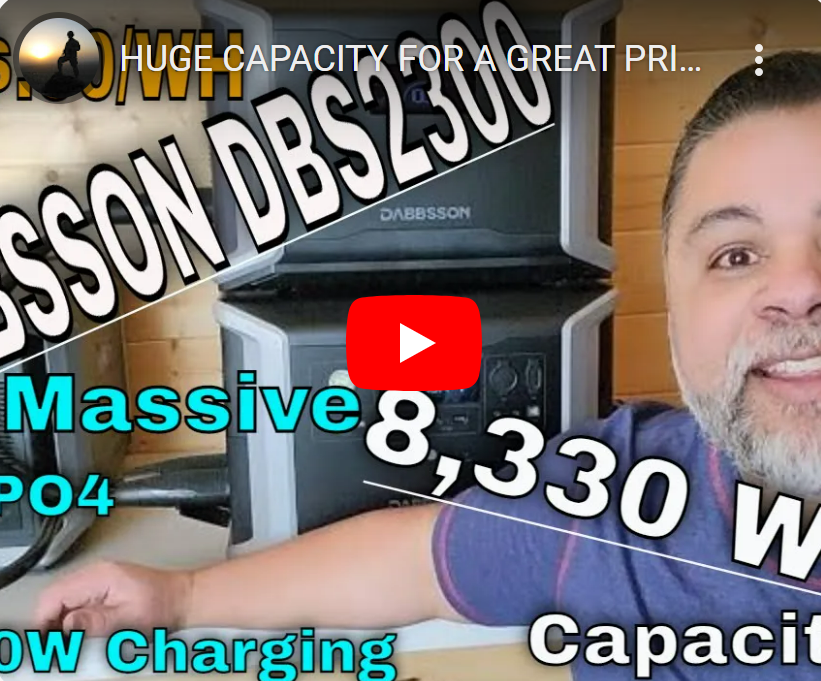 This product is rated 5.0 of 5.0 stars.
It has received 3 reviews.
What is the battery type of the product?

It's LiFePO4 with the advantages of high temperature resistance, strong safety stability, and better circulation performance.
How long is the warranty?

We provide 2+2 years warranty for DBS2300 Plus, DBS3000B and 1+1 years warranty for DBS200S for
Dabbsson official website orders, and for Amazon orders, please register your item on official website: https://www.dabbsson.com/pages/extend-warranty
Can the DBS2300 Plus support high-wattage appliances?

Yes. The DBS2300 Plus can power devices with rated power of 2200W, and also up to 3000W with our technology- P-Boost. *P-Boost can run devices that up to 3000W, however, it's best to test before use.(3000W is limited to heating appliances)
How to choose the solar panel and how long to fully charge the product?

The DBS2300 Plus supports 800W solar panel input, fully charged in about 4 hours. The DBS3000B supports 1200W solar panel input, fully charged in about 3 hours ( actual data varies with temperature, angle, weather, etc. )
Can DBS2300 Plus power the applianecs while charing with solar panels at the same time?

Sure it can. Our DBS2300+DBS3000B bundle which supports 1800W input of solar panel and the appliances within this range. And DBS2300 Plus+DBS3000B×2 bundle support 3000W input of solar panel!
Can the DBS2300 Plus charge my EV?

Yes, the Dabbsson DBS2300 Plus can charge your Electric Vehicle(EV)by using an extra portable EV charger. The DBS2300 Plus can power your EV by about 15 miles, while the unit of DBS2300 Plus +DBS300B about 36 miles.
What is the life expectancy?

It is rated for 4500 full charge cycles, 30% higher energy density.
( it's not to say the battery only has 4500 cycle life span. Among 4500 cycles, the unit can exert its best performance. It would not perform its best after 4500 cycles because of internal wastage.)
When is 45-day Price Match effective?

It is effective from Otober 17, 2023, to November 30, 2023 (Other channels such as Amazon can not be used to claim a lower price on the official website for a refund.)
For order, technical, and customer support inquiries:support@dabbsson.com
Contact Us Now!