At Dabbsson, we pride ourselves on creating safe and effective portable power stations that empower your sustainability at home. We want to bring everyone a world of clean, sustainable energy - as our planet faces new energy challenges, our power storage solutions are designed to benefit the environment and bring a positive change to people's lives.
One way we're doing this is by launching incredible products regularly. Working with scientists and top manufacturers, we develop and refine our technology to be the best it can be - including our portable power stations, which can be used with solar panels and expandable battery packs.
If you're considering a portable power station for camping then the DBS2300 Power Station is excellent - especially if you pair it with the DBS3000B Expandable Battery. If you're looking for a backup generator to cover you when there's a power outage at a campsite, including keeping your appliances and internet going, or if you're on a road trip and need to generate power outdoors when camping, they're a great option.
If you're here, you're someone who wants all the information before you purchase. And that's great! We're happy to help you understand our products and how they'll help you. When you choose a portable power supply for outdoor use, it's important to consider several factors to ensure that you create the best outdoor adventures for yourself and those you travel with.
When you consider the Dabbsson DBS2300 Power Station and Expandable Battery, here are the key factors you need to consider!
The DBS2300 Power Station and DBS3000B Expandable Battery Energy Capacity and Output
The Dabbsson DBS2300 portable power station and DBS300B expandable battery can be used together - so we'll explore their features together. The first of these we're looking at is the capacity and output of the devices.
The capacity of the batteries is defined as the amount of energy a battery can store, while the output is the power batteries have when they are connected to a circuit.
The DBS2300 portable power station has a 2330Wh expandable capacity, or 2200 (3000W with P-Boost) AC output for 99% of appliances. This means that the portable power station is designed to power most standard household appliances and electronic devices. If you're looking for a solar generator to use outdoors that can handle the energy requirements of a wide range of common appliances with its output, it's the device for you.
With this combination of devices, you can charge a:
60W portable refrigerator

1000W blender

77W drone
…and more!
Charging Method
Did you know there are 4 ways to charge your DBS2300 portable power station?
The power station exemplifies our commitment to sustainable energy because it can be charged through solar power - meaning you can generate energy outdoors.
More than just solar power charging, both of these devices also have AC input. This means if you're going on a camping trip, you can charge your portable power station fully using your power at home before switching to solar power on the road.
It also comes with a car charger supporting 12V/24V, so that you can access power on the road.
Finally, you can combine AC & Solar charging for effective power anywhere in the country.
Perhaps most impressive? Our portable power station has fast charging! It goes from 0%-80% in just 44 minutes. Please note that the DBS2300 has a max. 800W solar input.
Read about our top tips for mastering solar panels here!
Portability and Weight
As the name suggests, your portable power station needs to be easy to carry around - especially if you're camping or on a road trip. Key to this is how heavy the power station is; if it weighs a significant amount and you are unable to lift or move the device, it renders it useless outside the home. 
The Dabbsson portable power station weighs 58.15lb/26.38kg net. This is a manageable weight to transport - though we please ask that you always lift correctly and with care, and that if you need to carry the power station across short distances that you use a small trolley or other transport device.
If you have a Dabbsson expandable battery, this will also weigh 58.15lb/26.38kg net. Therefore, we suggest moving the batteries separately and while disconnected to ensure your safety.
Expandability and Modularity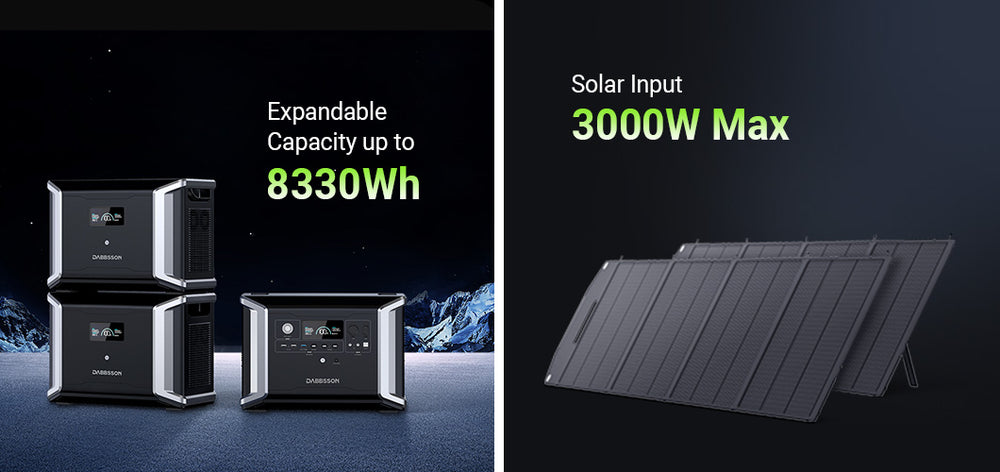 Expandability and modularity are key aspects to consider when purchasing a portable power station.
This is because you need your device to be versatile - one day you might use it camping, and the next it might be used to power your tools outside your home. It also helps to futureproof your power generator, whether that's the potential to use solar power (as with the DBS2300) to ensure sustainability and reduce your environmental impact, or to make it more cost-effective by buying additional batteries as you need.
Excitingly, when combined with the DBS3000B expandable battery the power station's capacity can expand to up to 8.33kWh and 3000W with P-Boost AC output - perfect for when you take a trip camping to the great outdoors and need to generate solar energy. Use this device to stay limitless.
Compatibility
Compatibility is important as you need your portable power station to be used with a range of different devices. To do so, your power station needs to have a range of different output ports.
The DBS2300 portable power station has an incredible 15 output ports, including the following:
5 x AC outputs (2200W total (surge 4400W))
2 x USB-A (for older technology, 12W max)
1 x USB-A Fast charge (18W max)
1 x USB-C (100W max for faster charging, e.g. powering a Macbook Pro to up to 60% in 45 minutes)
2 x USB-C (30W max/60W total, for phones, tablets and laptops)
1 x Car charger (126W max)
2 x DC5521 (50.4W max can charge digital cameras)
1 x Anderson (378W max, to allow charging of car batteries)
It also has an EPS of 15ms, which means rapid auto-switch when a power outage is detected. Altogether, this means the device is compatible with a huge range of devices that you use every day, and can quickly change to power larger devices for a short period if used during power outages.
Battery Life and Cycles
You want a battery with a longer life - so it needs more cycles. An average lithium-ion battery can last up to 500 cycles; the automotive-grade, semi-solid LiFePO4 Battery used by Dabbsson can last up to 4000 cycles at 80% capacity (the expandable battery is the same).
Read more about the benefits of LiFePO4 batteries at our blog.
User Reviews and Testimonials
If you've found this blog, you're likely already aware of user reviews and testimonials. They're an excellent way to establish if people who have bought the product have used it and enjoy it.
More than this, you get their real-world experience. While we can tell you the technical features on our blog and help you find your perfect fit, hearing directly from people who have used one of our portable power stations when camping or generating solar energy outdoors will provide inspiration and a trusted review of how the products function in day-to-day life. 
You can view the reviews from many Dabbsson satisfied customers on our website. Head to the DBS2300 or DBS3000B website pages to read them.
You can also check out a review by Alaska Prepper on YouTube here of the DBS2300 - spoiler alert, they note that "I think it's a great machine, it does everything that they say it's supposed to do!"
After-sales Service and Warranty
It's important to check your after-sales service and warranty no matter where you buy from.
Make sure to check your warranty and read and understand the terms and conditions, including what is covered, the duration of coverage, and any associated costs. Think about the expected lifespan of the battery and your lifestyle, to ensure that your device's warranty covers all possible outcomes.
Having after-sales service is important to cover for defects, to make sure you can maintain resale value, and to give you peace of mind to take your portable power station and solar generators outdoors.
At Dabbsson, the warranties for both the DBS2300 portable power station and the DBS3000B Expandable battery are 24 + 24 months on the Dabbsson policy. This means up to 48 months warranty on every portable solar panel purchase (24 months upfront, extended warranty of an additional 24 months with registration).
The Dabbsson warranty is straightforward and is processed in the most hassle-free way possible. To learn more about the warranty, please refer to our website for the warranty timelines of various products, as warranty periods differ according to models.
Conclusion
The DBS2300 Portable power station is a brilliant bit of kit - particularly when you pair it with the DBS3000B expandable battery kit. As this blog shows, they're both mighty alone. But when you bring them together, you can have great power at your fingertips.
But it's not just about numbers. You need to read reviews about portable power stations and learn about how they deal with real-world camping experiences. You also need to trust that the warranty on your device will fit your lifestyle and be there for you when it's needed.
At Dabbsson, we have all of the above. Our portable power station will help you when you're outdoors, on a road trip, or simply need an extra boost of electricity around the house. And once you've tried it coupled with our expandable battery kit, you'll come back for more!
Explore the Dabbsson website to learn more about the DBS2300 portable power station and our DBS3000B expandable battery pack for our power station, ready for purchase today.